I know Yankee fans get a lot of hate and I will admit in some ways we suck. There are a ton of Yankee fans out there that probably never/rarely watched before Aaron Judge made the Bronx fun again in 2017, fans that will jump to the "27 rings!" argument faster than David Price jumping to find an excuse to not pitch against the Yankees, and fans that probably don't even realize Joe Girardi was a World Series winning Yanks catcher before he gave us this legendary line as manager.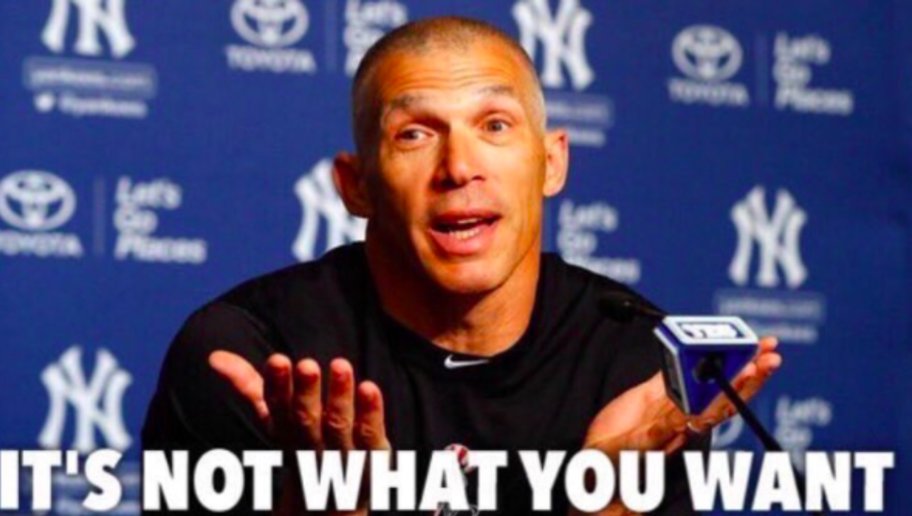 That being said, the most insufferable fan base on this planet is that of the Boston Red Sox. Yes, in my mind they're worse than Warriors fans, Patriots fans, even Duke basketball fans. That's a very biased opinion as I'm a Yankee fan myself, but I actually cannot stand Red Sox fans. My hatred began as an 8-year old at Fenway, being cursed at and told to go back to the Bronx while wearing my Gary Sheffield t-shirt. I'm all for heckling fans of the opposing team, but if I'm ever heckling an 8 year old punch me in the face because I've had about three too many.
I don't even care about that now though. It's a fond memory of mine, my first real taste of the Yankees-Red Sox rivalry. I even respect that about them. Too many fan bases are too nice in my opinion. I went to a game in Cleveland this summer, and I really anticipated getting more hate, especially after how we beat them in the Division Series last year. Nope, the people couldn't have been nicer to us; an Indians fan even bought my friend and I beers at the bar before the game. You come into Fenway or Yankee Stadium, and you know the fans are gonna be going crazy. Red Sox fans are definitely dedicated and I respect them for that. But they are insufferable.
They're insufferable because I've never met a fan base that loves to make excuses as much as they do. The Yankees have not played their best baseball in the second half. And yeah it hurt losing Judge, but he is far from the only reason we have been flat. Bottom line, a ton of our guys have underperformed, and that's why we're playing for home field advantage in the wild card right now and not battling the Sox for the AL East, as most assumed we would be. But if the Red Sox lose a game? Even to the Yankees, the team with the third-best winning percentage in baseball? Their fans can't believe it. It's like losing isn't even a possibility in their minds. There has to be something wrong.
On Tuesday, the Yanks beat the Sox in the series opener 3-2 thanks to a huge three-run homer from Neil Walker and six strong innings from J.A. Happ. A great game, and one that the Yankees nearly gave away. They totaled only three hits in the ballgame, and botched two game-ending double play balls in the 9th before finally turning one the third time. What was Sox fans' excuse for why they didn't win this one?
JV lineup?! You sat Mookie and Benintendi (who later pinch hit), but otherwise EVERYONE else was in there. Obviously Mookie Betts is a game changer, and one of the best players in baseball. But am I supposed to feel bad that Alex Cora opted to give him an off-day against the Yankees? For sure not, especially when we'd been without our best player for almost two months prior to that game. If you wanna say the Red Sox outplayed the Yankees, I'd agree with you. But them not being able to cash in on two Yankee errors in the 9th has nothing to do with them sitting Mookie, get outta here with that bullshit.
Last night was a huge game for the Yankees. Again, I know the division is over, but at this point it's all about getting our guys back on track and building momentum for the Wild Card game. They did just that last night with a 10-1 drubbing of the Red Sox. Most importantly, Luis Severino looked more like the Cy Young candidate we saw in the first half of the season. 10-1, that's a huge margin of victory. What kind of excuse could Sox fans make this time? They jumped to their favorite, "Yankee Stadium is a Little League field."
I can't even wrap my mind around this one. Do both teams not get nine innings of at bats… in the same stadium? Do they push back the fences when the Red Sox hit? Of course Voit's homers and Andujar's solo shot would be fly outs in most stadiums, they barely got out to the short porch. But what was stopping the Red Sox from doing the same thing? A homer is a homer. If you wanna argue and tell me that over the course of a season a Yankee player's stats are inflated because he plays half his games with the short porch in right, then fine. I agree with that. But to complain about the results of an individual game because of the dimensions of the stadium is blasphemous. Fenway is legendary, but how many times does the Green Monster turn what would be easy fly outs in any other park to doubles or home runs? Multiple times a game. You lost 10-1, just live with it.
The Red Sox have been the better team this year, no doubt about it. They completely derailed our division hopes with the four-game sweep at Fenway in early August. You didn't hear us Yankee fans making any excuses back then (anyone who said Judge alone would've made that series much different is an idiot.) It's pathetic that Sox fans need to try and come up with an excuse for every loss they have.
I need the Yanks to win tonight. Can't let them beat Tanaka and win the division on our own turf. And I NEED a Yankees-Red Sox ALDS like I need air to breathe. I know that getting eliminated by them would be absolutely brutal. But this season has been so weird that it needs to end with one of these teams knocking out the other. It's the only way.
Buck Foston go Yanks, Tanaka time tonight.